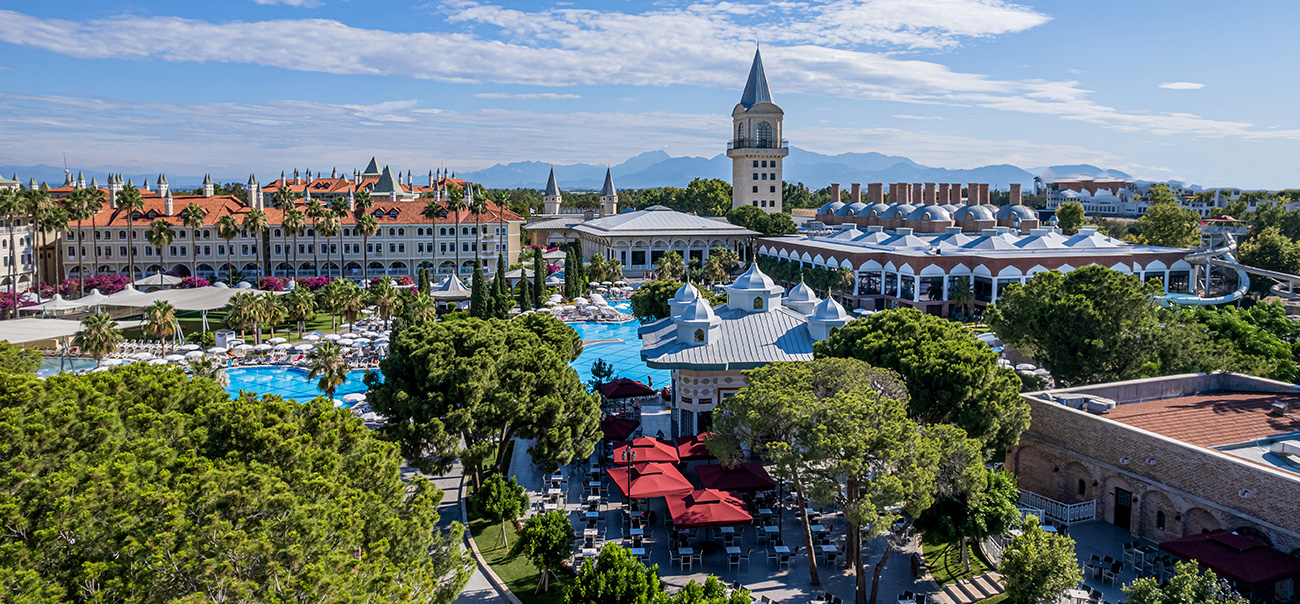 Our Open Spaces
Our open spaces, with their historic architecture, stand out with different options such as a grassy area and beachfront with a unique Mediterranean view. Our peaceful and impressive invitation areas will rejoice with you and your loved ones!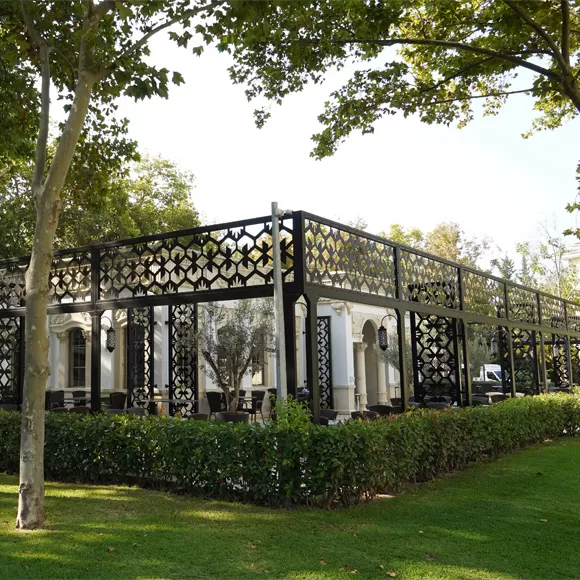 Hanedan Restaurant
Cocktail Organization
With the bistro table layout of Hanedan Restaurant on the lawn, the wedding organization offers an unforgettable and impressive experience intertwined with nature.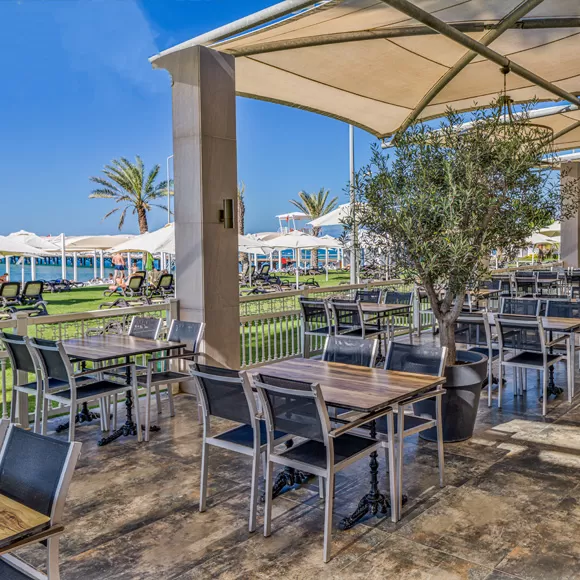 Derya Restaurant
Organization with Food
This magnificent restaurant offers a romantic atmosphere outdoors, on the edge of the sea. The sounds of waves and the fresh sea breeze add a unique touch to the atmosphere of your wedding. By the beach, the feeling of sand under your feet and a starry sky above your head makes this special day even more magical.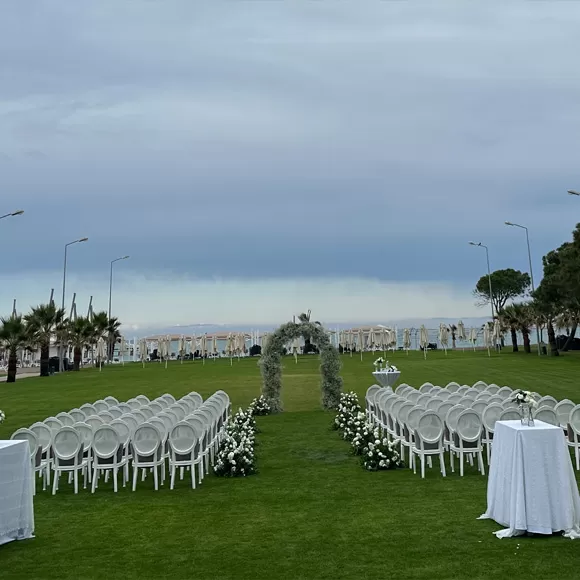 Has Garden
Organization with Food
The Has Garden offers an unforgettable outdoor wedding with a unique view of the sunset and the relaxing sounds of nature.
Cocktail Organization
Has Bahce's large lawn area is an ideal venue for your cocktail weddings. The table layout of the bistro ensures a comfortable interaction of the guests.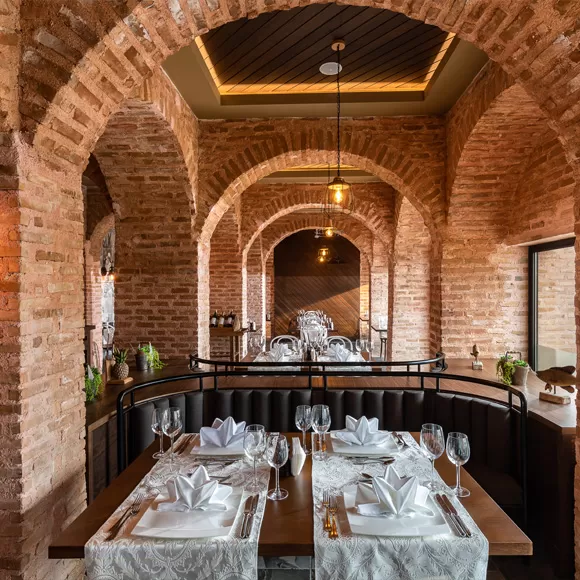 Safir Restaurant
Organization with Food
With its simple and elegant design, Safir Restaurant makes this special day unforgettable. Remarkable details and stylish decoration enhance the overall ambience of the place and impress your guests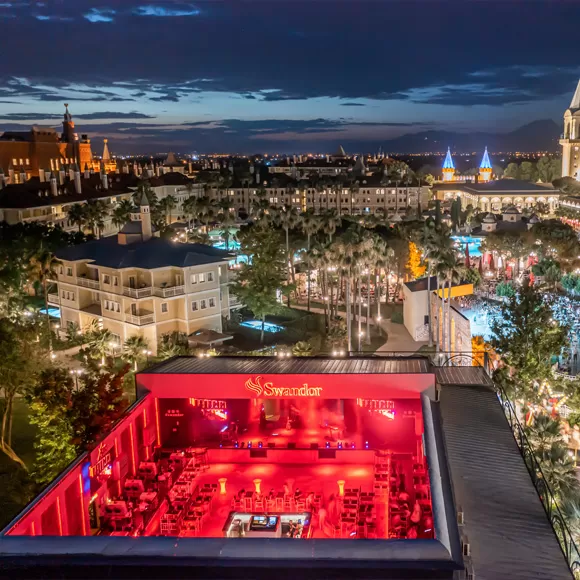 Xone Event Area
The Xone Event Area is an outdoor event area of the Swandor Hotels & Resorts brand that offers a magnificent colorful nightlife for those who like to dance and have fun, including concerts, concept parties, live DJ performances and fascinating laser shows.
Our Indoor Spaces
We reflect our inspiration from history in our decoration. Elegance, nobility, and chicness are the first principles we keep in mind while decorating our invitation areas. For our seating arrangements, we use round and rectangular tables, complemented by Tiffany & concept chairs. We capture a harmonious view in every part of our indoor hall, striving to realize the atmosphere of your dreams. For decoration and adornments, we collaborate with companies that suit our couples' tastes, promising an unforgettable experience. Our air-conditioned halls in indoor areas provide a comfortable entertainment area for our guests.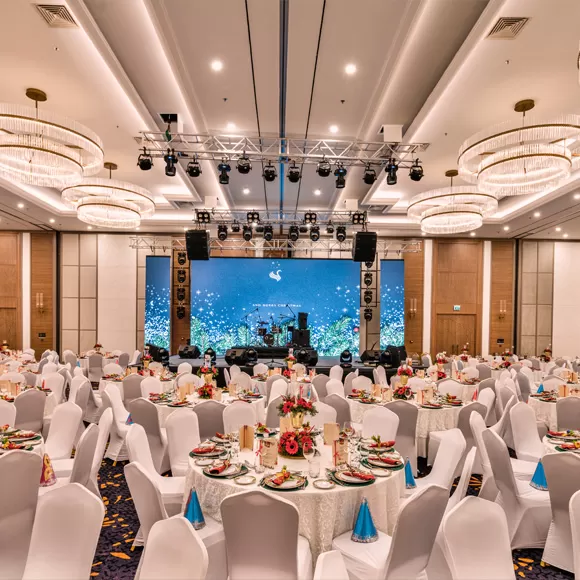 Meet Room
Organization with Food
Our meeting hall hosts all kinds of events with original menus prepared by our experienced chefs. Options from local and international cuisines and dishes suitable for dietary requirements are offered.
Cocktail Organization
For your cocktail events, we offer an unforgettable experience to your guests with delicious snacks and a wide selection of drinks. Our air-conditioned lounge provides comfort in all seasons.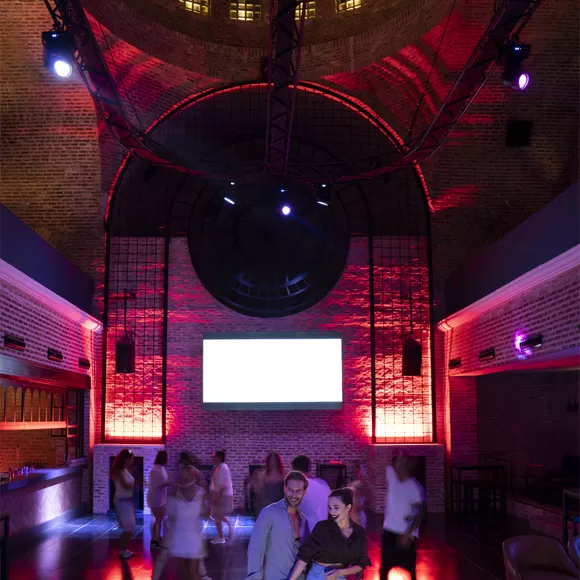 Kubbe Disco
Organization with Food
Kubbe Disco offers a sophisticated ambience inspired by Topkapi Palace. With its elegant decoration and modern design, it is ideal for all kinds of events and promises an unforgettable night.
Cocktail Organization
Dome Disco, which has a dynamic and lively atmosphere, offers an energetic night to its guests. Its impressive domed structure and modern lighting add a unique atmosphere to the place.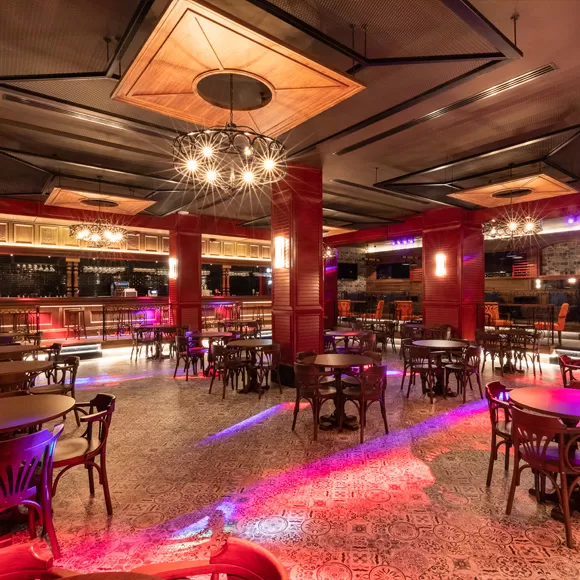 Irish Pub
Cocktail Organization
Our Irish Pub is equipped with modern sound and light systems, thus creating a lively atmosphere and allowing your guests to have fun. In addition, we can also provide DJ or live music service on request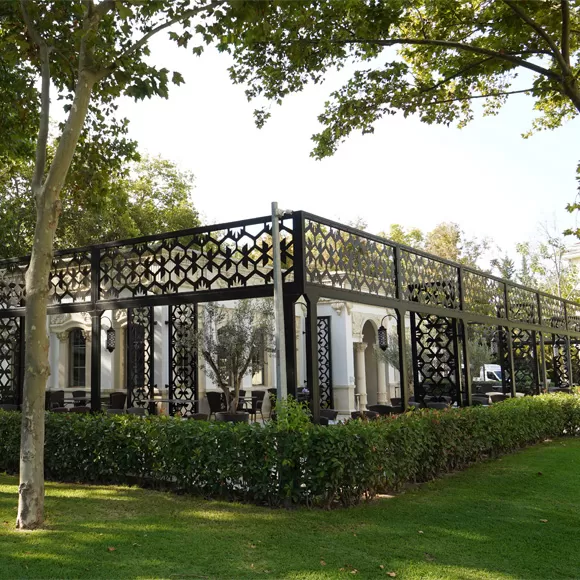 Hanedan Restaurant
Organization with Food
Heraldic Restaurant combines comfort and elegance in a sophisticated atmosphere. The air-conditioned interior ensures that your guests are comfortable even in the hot summer months. With its large windows where natural light seeps in and modern, stylish decoration, Hanedan Restaurant offers an unforgettable wedding experience.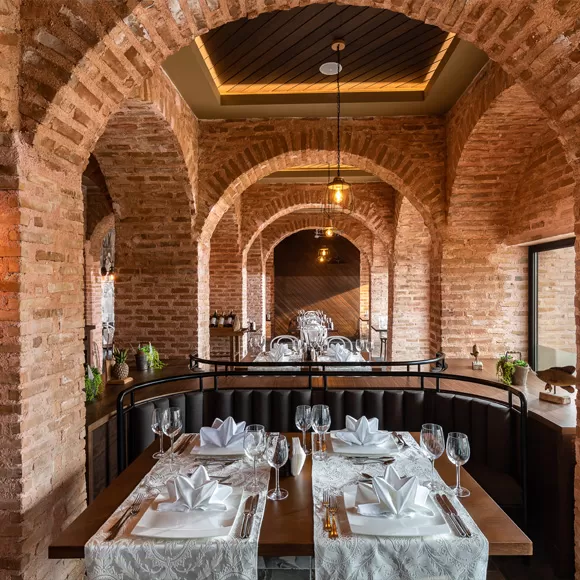 Safir Restaurant
Organization with Food
Safir Restaurant is a customizable and elegant wedding venue with food, ideal for small groups. It offers a simple and refined atmosphere.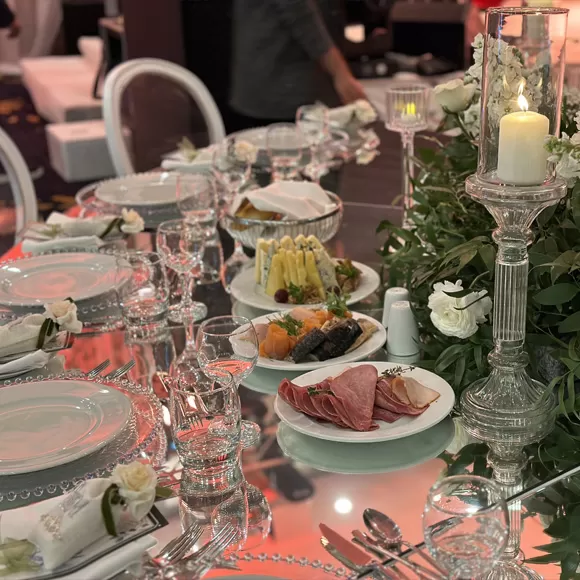 Food & Beverage Services
In our special event areas, we provide food and beverage service with our professional team. In our cocktail options, we offer an unforgettable experience from our cocktail menus prepared from cocktail & international cuisine in the bistro table layout.
We shape our food menus according to the wishes of our wedding couple. We provide a feast of flavors with menus rich in flavors such as white meat, red meat and seafood. If you wish, we create menus with flavors consisting of options such as menu plate, starter, Decanter, main course and dessert. We can also offer vegan, vegetarian, gluten-free, diabetic, kosher and children-specific menu options.
Photo Gallery
FAQ
What should I determine before contacting the hotel?
In order for all the preparations to be made by our professional team to be carried out flawlessly, you need to determine the estimated number of guests you plan to invite, a wide date December that can be optimized according to availability, and your average budget.
Does the organization include decoration, music and photography?
At your wedding, which you will perform accompanied by a unique view of the Mediterranean Sea, our hotel serves only within the scope of food - beverage and space use. In addition, you can also work with companies that will be recommended by our experienced team for all the services you will request.
LOCATION
Get ready to be treated like sultans in Kundu,
the most impressive region of the Mediterranean, located approximately 20 km away from the city center of Antalya and about 16 km from Antalya International Airport.
GET DIRECTIONS